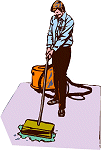 NirvanaSafeHaven.com sells two wonderful products:
SafeCarpet Shampoo, a non-toxic carpet shampoo, and SafeChoice Carpet Lock Out, a unique sealer designed to prevent the out-gassing of harmful chemicals (including such known carcinogens as formaldehyde, toluene, benzene, xylene and styrene) used in carpet backing.
Carpet Lock Out is non-toxic, non-corrosive, non-flammable and biodegradable. It does not irritate hands or skin. SafeChoice Carpet Lock Out is designed to perform two functions: first, to seal in the outgassing of harmful chemicals found in carpet fibers, and second to help repel dirt and stains.
Please do use these products if you are installing a new carpet! They really work! You need to shampoo the rug first, which you can do with a rental machine, and then spray on the sealant with a pump sprayer. It will dry overnight.
Although it is a soap and not a shampoo (as usually recommended to clean carpets), KD Gold by Natural Soap Formulas can also be used for carpet cleaning. After pre-treating stains by spraying on a 3:1 mixture and then brushing or scrubbing, use 2-4 ounces of 3:1 per gallon of water in a carpet machine, going over the carpet once to wash and then a couple times with clear water to rinse. You also might try a little vinegar in the rinse water to keep stains from coming back up.